Name of program: Judo in schools (Judo a l'école) Number of schools: 15-20 Number of children: 2954 Founding year: January 2019 Founder program: IJF, Algeria NOC
About the Program
We think it is important to pay attention to the sporting practice at schools. This can be done with the philosophy of judo. Through judo, we can bring a physical and mental balance to children as well as skills for life. By participating in this program, primary school children acquire physical and social skills via judo lessons. Our program aims to promote judo in schools and has a principal mission to entertain, educate and tecah judo and its values to children through games.
We also want to increase the number of participants with good bases to either direct them to clubs or why not create schools of judo even in colleges and high schools to follow them. We want the program to be officially recognized by the government in the future. Our main office is based in Algiers (Algerian Olympic and sports Committee), we have selected 20 teachers of judo for this year.
The project currently has 15 active schools with more than 2900 children. Each school is supported by a qualified teacher, that supports 240 students divided on maximum 8 groups of 30 children (girls/boys) aged between 7 and 10 years old. Each group receives 1-hour lesson on a weekly basis. More than 5 schools remain to be launched in the shortest time.
Dream 
In the long term, our dream is to be able to follow up and spread this program in each of the municipalities in the country (there are more than 1000 in Algeria).
Support next to IJF
Algerian Olympic and Sport Committee
Highlights
Education
Fulfilment
Development
Challenges
Promote
Prove the Benefits
Progress
Best practices
Benefits of physical activity
Our children have a big lack of place of fun and pleasure, also of sports practice at schools. Our program offers them a very good opportunity to practice sport in order to get rid of negative energy, whilst providing fun. They also get to discover themselves and develop. We are convinced and sure that judo will help a lot for the development of the child and will give them a solid base with values to succeed in everything they undertake.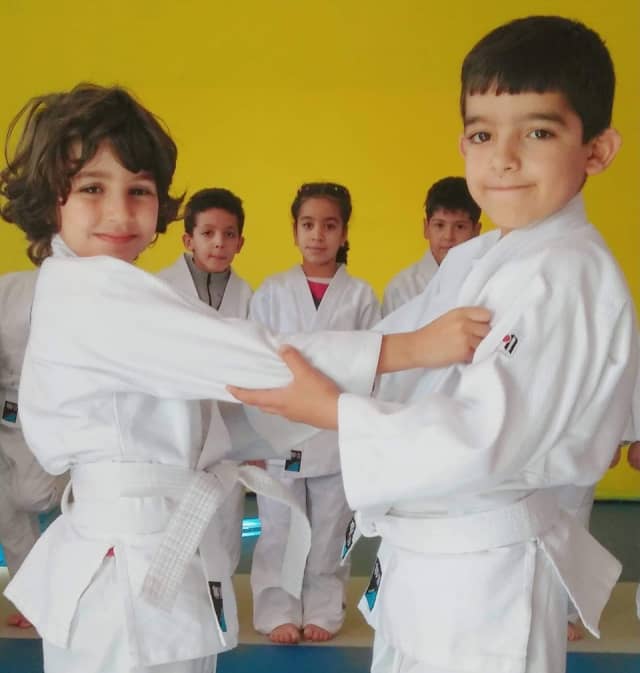 Through the media (reports, broadcasts…), we will once again attract the attention of the government and senior officials and parents. We specify improvements in children who are involved and highlight the main advances such as physical improvement, behavioural improvement and better academic level.
In addition, it is a known fact that school sport is the basis of all success of high level Algerian athletes. Many Algerian Olympic Medallists (boxing, judo, athletics, including project manager Soraya Haddad) confirm this to the media. It's one of the reasons that this program gets a lot of media attention.
Judo as an educational tool
Highlighting the educational aspect, to incorporate the values of this sport, which is the main mission of our project, by following the program established by the IJF. By following the program, we will have children with respectful and exemplary values in life before becoming champions.
Enchance and develop training with children to a different level
This involves encouraging teachers to work more with small classes, offering them a better salary, working in better conditions by also offering them training seminars for instance. This will encourage Algerian judo coaches to focus and work more.
We are becoming an example for other sports, because now other sports want to set up similar projects in schools. However, we are the first to succeed in bringing a discipline into a school. Given the success of the project with us, some other sport wish to carry out the same project in the future in primary schools.
Fulfilment of children and their parents. Noticeable, after a few months of working with children they are more fulfilled, more motivated to go to school, love to do sports more (judo specially). Children are ready to do anything to not miss their session. Their parents are also satisfied and already convinced that with school sports their child will grow up well and will succeed better in life.
"
Le Judo c'est la voix de la sagesse - Judo is the way of wisdom Etre judoka c'est etre respectueux avant tout - To be judoka is to be respectful above all
News
If you are interested to know more about Judo in Schools in Algeria, please contact: