Judo In Schools Uzbekistan
Name of program: Judo in schools in Uzbekistan
Number of schools: 20 Number of children: 1054 Founding year: 2018 Founder(s) program: IJF & Judo Federation of Uzbekistan - Abdullo Muradov
About The Program
The aim is to promote the philosophy of judo amongst the raising generation of Uzbekistan. With constant changes in modern society it is necessary to teach young people a model of behaviour and standard life skills through sport. We anticipate that his can be done by teaching and spreading judo philosophy. The program in Uzbekistan uses a unique playful methodology to promote judo values and enhance children's attention to the sport. By delivering judo sessions in 20 schools, we now train more that 1000 children who are keen to learn more. We are planning to increase the number of schools involved
Dream
Our main dream is to enrol 20 more schools in 2020
Support Next to IJF
Ministry of Sports and culture
National Olympic committee
Coca cola
Ipoteka Bank
Highlights
Spread Judo Code
Safe School Environment
Strength, wisdom, self-control
Challenges
Year-round program
Further collaboration with IJF
Best Practices
Schooljudo.uz transmits the moral code of judo into several values that also go along with what we call the Uzbek mentality: Trust, Team Work, Respect, Self-discipline, Resilience and Confidence. They believe that children learn the most when they can express their energy throughout sport as well as when they can see results of their hard work. The program is a continued education system for groups in primary schools (children age 5-12).
Connection to the classroom
Aside from judo lessons, there are much more exercises and games in the program that teaches children about different values. As for the school environment, it creates a safe atmosphere where children can give their opinion and treat each other with respect. Therefore, we believe that school teachers and judo teachers should always collaborate together.
Before the program starts, school teachers take part in a workshop which organized by senior trainers to talk about judo and its' values. The judo teacher always introduces himself to the classroom. During the program, the school teacher or assistant is always at present at the judo lessons. One of our aims with this is to help school teachers to lower a certain amount of workload on them. During the judo lessons, school teachers can observe the group.
As part of the program, parents and senior judokas are invited to events to raise young learner's mood and motivation. This way we can make our activities visible to public eye and encourage more youth to take up JUDO.
"
"We believe that judo develops strong minds, teaches to be honest, reasonable and a self-satisfied person. These are the qualities we eager to see in our young generation."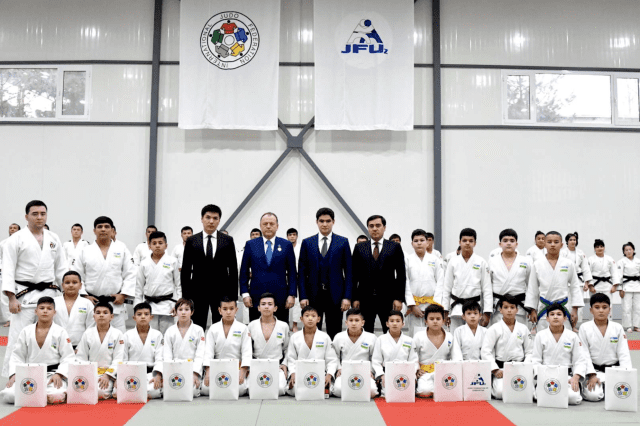 News
If you are interested to know more about Judo in Schools in Uzbekistan, please contact: