Name of program: IJF Judo in schools Namibia Number of schools: 9 Number of children: 1700 children exposed to judo weekly and on a monthly basis Founding year: 2018 (22 October 2018) Founders of the program: Stompie Matthyser
About the program
The program is to develop and promote judo in schools. Judo is implemented as a social skills development for children whilst the falling safely aspect of judo is used to develop and prepare kids for all sports, not just judo.
As per the latter, we believe if children can fall confidently and get up with ease from any given and unforeseen situation, not only during play in sports but in everyday life, we are creating super human beings for the future. Falling safely, creating social benefits and together with Professor Kano's judo moral code, we form the basis and strong foundation of IJF Judo in schools in Namibia. In addition, the sport coordinator in every school joins in the classes whilst all principals of every school are part of the executive committee of the Namibia Judo in Schools Union.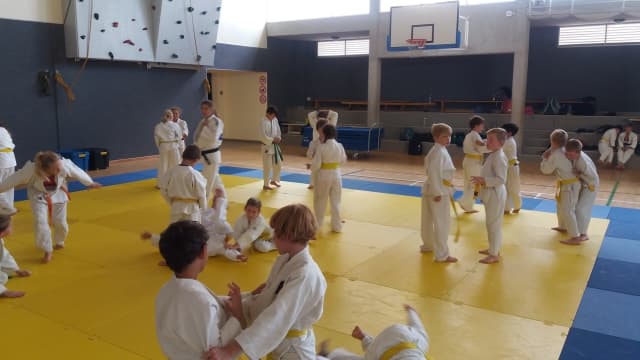 Dream
Our dream is that every time we approach a person on the street, they've heard about the Judo Schools Program in Namibia. To have a big number of children practicing judo in the future. Have players competing in the International circuit coming out of the schools project. That all our neighbour countries joining us and getting inspiration from our program. Also be able to organize an interschools team competitions.
Support next to IJF
The National Sport council and the Ministry of education is 100% backing the IJF judo in schools program, however this does not include financial support.
To achieve success and big numbers in a federation or country, there needs to be a dedicated support from either the Ministry of Education and Ministry of sport. That's why a 5 year plan is made together with the Ministry of Education. Next to the support from IJF, they will make sure the program is implemented in schools.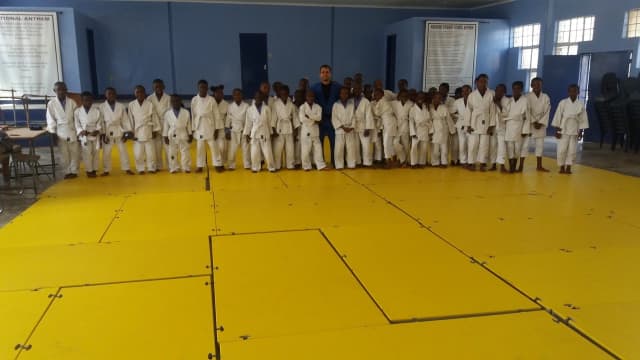 Highlights
Challenges
Financial support
Sustainability
Sponsorship
Best practices
Development in life via judo
This program has endless benefits. The educational and physical values of the IJF judo in schools program has no boundaries. Uplifting and educating disadvantage people, offering children confidence in life as well as social life skills. Giving hope and incentive to children. The Judo educational values develop better concentration ability in classroom. Judo creates super people and super athletes for the future! The social economical standard of people changes to the better because of the judo values.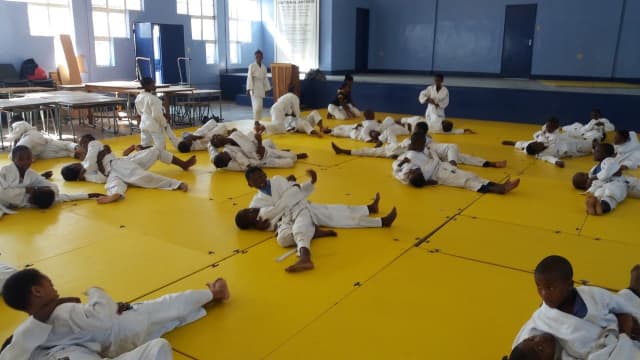 Involving the schools teachers
The sport teachers are also involved in the program. The school teacher always attends the class and also learns about the judo method. Next to that, they attend a judo class for the teachers so they can learn judo in finder detail and also participate in belt grading themselves.
The schools have interschool team events as well. This is a league mainly meant for judo in schools and for affiliated schools to the IJF Judo in Schools program in Namibia. Each school first has internal team events, so everybody can participate. After, 25 boys and 25 girls are selected to represent their schools. It creates a prestigious event that is held once every school term. Each school has its own color code and name. The Ministry of Education, Ministry of Sports and all school principals and sports coordinators attend this special event. A trophy as well as medals are handed out to the top three teams. The whole event creates a good exposure and feedback to all stakeholders. The school judo league is very successful in creating numbers for judo clubs. The idea now is to maybe take the interschool competition abroad and turn it into an international competition.
Belt examinations are held twice a year. Only 1 color belt can be achieved in 1 calendar year. Belt exams are based on children's abilities and age. Mon grades or stripe grades are essential to help slower or young children to prepare for their full color belts. The grading syllabus was implemented by Mr. Matthyser and is based on the German and Dutch grading system and according to Kodokan.
School Judo as a Brand/Marketing
To be visible to the community every school has its own t-shirt and color-code with logo and moral code and schools name visible. Teachers wear judo t-shirts on judo days and every child wears their t-shirt.
With national tree plant day and national cleanup day (pick up paper day), kids also wear judo t-shirts with judo schools branding and advertising the judo project by marching in town and help picking up papers for a good cause.
The Namibia Judo in Schools federation has its own constitution and policy documents. There is a radio talk show once a month on a local radio station that talks about Judo in Schools. There is a good possibility this will increase to once a week in the future. It will give the project more advertising opportunities.
Next to that, a Facebook page will be opened and daily activities in the judo program will be posted. Of course, all stakeholders will be able to follow and advertise on the page.
"
"The more you fall ….. the better you stand up in life!"
News
If you are interested to know more about Judo in Schools in Namibia, please contact: