Bringing together different pieces of our huge judo puzzle is a big part of the IJF mission, uniting the world on the tatami.
For many months we have been reporting on the development of the Erasmus+ SchoolJudo.EU project. It has been growing well in the three Pilot countries, Italy, Slovenia and Hungary but recently one of the Hungarian Entertrainers, the title for the special coaches of the SchoolJudo project, competed in the World Championships for Veterans, In Krakow, bringing together these two worlds and eliciting a new perspective on each.
Zoltan Pentek has been a judoka and coach for many years, "In Krakow I fought at +100kg in the M2 age group. I won a bronze medal. I travelled there with my friend Attila Deak and we were each other's coach." This is exactly the kind of camaraderie we are used to at the veterans' events, always a hub for friendship and community spirit.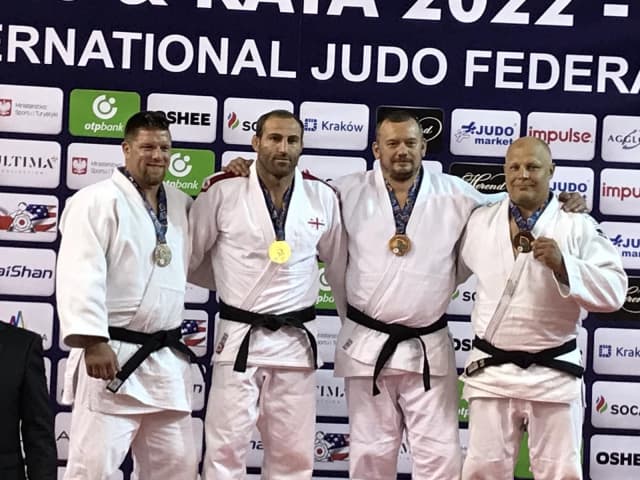 "It was a long day of competition and there were moments when I thought about giving up, with a knee injury and a long golden score contest which really pushed my limits. However, with a good rest between matches, my coach and friend beside me and the judo values as a guide I decided to continue and won two further contests to reach the podium. I was very happy because there are no tourists at a veteran world championships. I vow to train even harder for the next one."
Zoltan could be asked why he continues to compete. With work, family, coaching and other aspects of a life already established, anyone could be forgiven for hanging up their contest jacket. "Actually this is my life. I love the feeling of competitions. It gives me motivation to train hard and keeps me in good shape. In the last few years I felt a little bit old compared with my opponents but I was still able to be among the best 3 at national events, so I kept going.
My little daughter was born in 2020 and changed everything, so I gave up senior tournaments and decided to aim at being a strong veteran. I have less time to train so it fits better for me and I am okay with that. What makes me happy is that I can continue to compete for as long as I am able to stand on my feet!"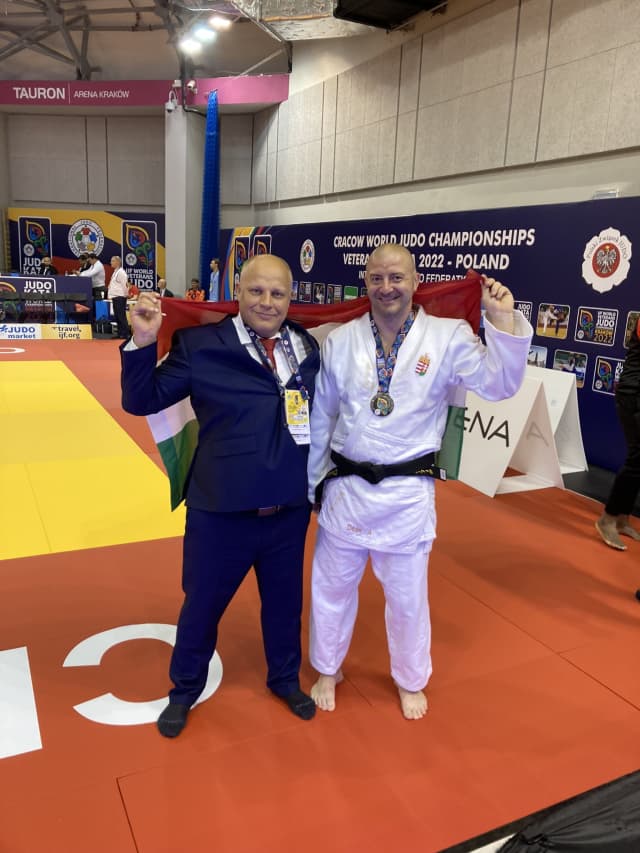 How does your own training and competition benefit you as a coach for school children? "This is easy to answer. Being an educator, I am an example for children. I am so lucky that I can show the children the values I taught them, like persistence, resilience and so on. I would like to be trustworthy for them, because it makes my work much easier. If they can see me suffering and can relate their lives with mine, seeing solutions and resilience, then they can accept the toughness they receive from me in the training much more openly."
SchoolJudo.EU ran its Hungary pilot project in March, with a core teaching method revolving around the judo values and the transferable skills children can take from judo into their lives beyond the tatami. The classes in the chosen schools ran brilliantly nada here has been much reflection and future planning since, to push the project forward in Europe's and beyond.
"I liked it. Our schools classes were very receptive. Since then, in the summer of this year, I changed my school and now I am finally a PE teacher. I know that if we continued the SchoolJudo project now I could do it better and more efficiently as I learned a lot. I am open to having another semester but also hope to see the project develop across Hungary and make it a real focus for schools across the country. I would love to help coaches and Entertrainers in the future, get to grips with their first experience of our teaching model. The project is very good because so much of today's judo is about reaching results rather than teaching our values properly. This system is a real bridge between sport and community and one I am proud to have been involved in."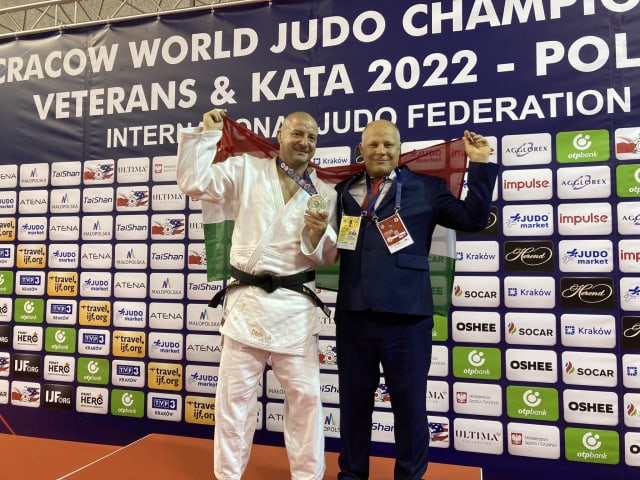 The final key meeting for the Erasmus+ SchoolJudo.EU project is being held in Ljubljana, Slovenia in December and it will be to summarise and evaluate the whole project. The project will be presented at the EJU Education Seminar with one aim being the promotion of the concept, attracting more EJU countries to the ideas and themes the IJF and SchoolJudo.EU have been exploring.