For several years, the Judo in Schools programme in Namibia has been developing to offer more opportunities to young children to practise judo and learn its values. Recently a group of judoka led by Stompie Matthyser, cross the border with South Africa to participate in the South Africa Judo Schools Open, open for 8 to 12 year old participants. The event took place in Johannesburg's Wits University.
To prepare his judoka Stompie Matthyser organised a training camp followed by a friendly competition at the DHPS German school. Then a total of 11 school judo players, 3 girls and 8 boys, travelled to South Africa to compete in their respective weight and age categories from 3rd to 9th October.
After arriving in Johannesburg, the delegation travelled to Sandton for a first training session together with 60 further judo school players. The training was organised by Judo South Africa Sport Director, Paul Notnagel, who made his dojo available for the event. On the first evening a mixed team competition was held successfully.
Mr Matthyser said, "The Namibian children were all in very good spirits after their first introduction and they were looking forward to the rest of the 6 days but it was not only about being on the mat. On Tuesday 4th October we had a free day and decided to make a cultural visit to an old gold-mining town and we also went to an amusement park. Everyone had a great time."
The event also included a kata competition, "It was something new for my judo players. I have some kata specialist in the group but they couldn't come this time, so for the ones who came to South Africa, it was a discovery. Personally speaking, I was happy to help them discover kata and I could also lend a hand to the organisers to judge the competition," explained Stompie.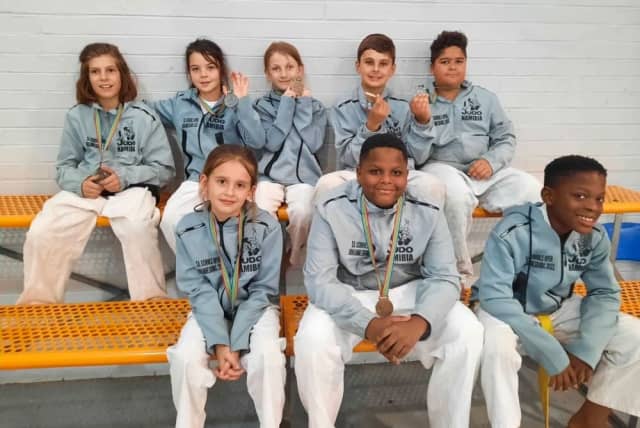 The programme continued on Thursday 6th October with a schools novice competition that was well attended by judoka from all over South Africa. Generally speaking, the level was good and for the Namibian children to win three gold, two silver and three bronze medals was something! 
The following day it was time for the advance schools competition, with participants from 8 to 12 years old and once again the Namibia delegation illustrated themselves with two gold and one silver medal.
Saying that the coach and the delegation were happy is an understatement; they were obviously very proud, but it was not the end yet. On Saturday 8th October, it was time for the Judo South Africa National Ranking Tournament, an event which usually gathers some of the best judoka in South Africa
"Among our delegation was Shura Raivkine, who managed to make the Namibia school judo team very proud as he won a bronze medal in the -14 boys' group 3 at -66kg division," explained the coach.
On 9th October, it was time to travel back to Namibia, with heads full of images, joy and satisfaction and with the feeling of a job well done. Stompie Matthyser addressed a special thank you to Judo South Africa for welcoming the delegation with open arms and assisting them with making the tour comfortable.
There is no doubt that the 11 participants and their coach went back to Namibia with a strong will to do more and go further. This is all we wish them.