Between 14th and 22nd May 2022 in the region of Normandy, France, the International School Sport Federation (ISF) will organise the 19th edition of the Gymnasiade, the largest international multi-sport event for 16-18 year old school students and judo will be part of the programme.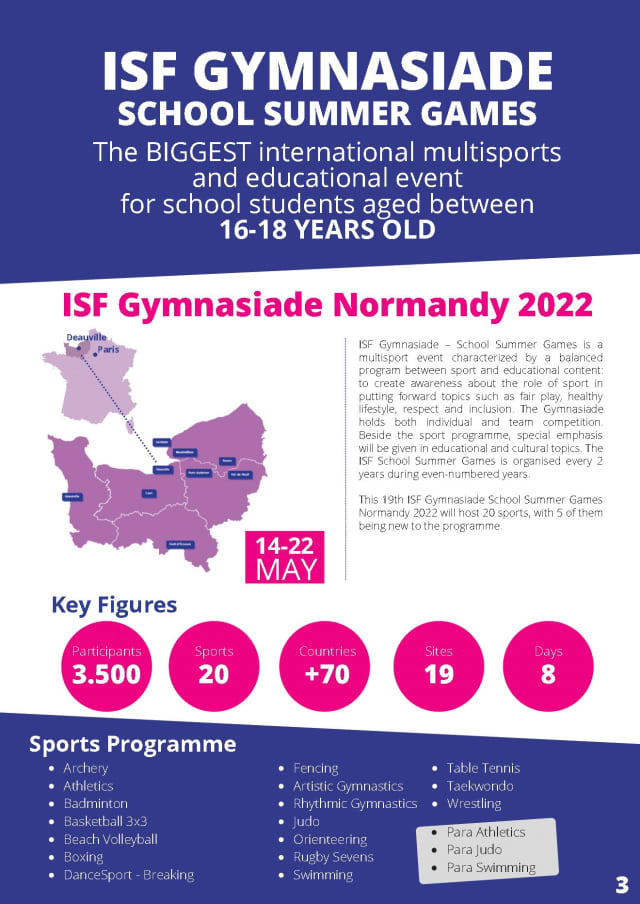 "Education and Sport through school is crucial for the wellbeing and empowerment of youth, contributing to the development of their leadership skills. We must provide the youth with equal opportunities, which begins in school and can only be achieved through proper education and includes sport," said Laurent Petrynka, ISF President and IOC Olympic Education Commission Member.
The ISF Gymnasiade is the School Summer Games, a multi-sport event characterised by a balanced programme of sport and educational content, to create awareness of the role of sport in putting forward topics such as fair play, healthy lifestyles, respect and inclusion. The Gymnasiade holds both individual and team competitions. Beside the sport programme, special emphasis will be placed on educational and cultural topics. The ISF School Summer Games is organised every 2 years during even-numbered years. This 19th ISF Gymnasiade School Summer Games Normandy 2022 will host 20 sports, with 5 of them being new to the programme.
Boys categories: -50kg - 55kg -60kg -66kg -73kg -81kg -90kg, +90kg
Girls categories: -40kg -44kg -48kg -52kg -57kg -63kg -70kg +70kg
Age Category: 2004 - 2005 - 2006
Registration until 15 March!
Judo - ISF Gymnasiade Normandy 2022.pdf
Download
Because sport is not only about physical development but also about mental and social development, the Gymnasiade will help bring the young participants to a new level of understanding of the world because sport is education and judo is education.
More information: CLICK HERE